Travel with Stray Pt. 2
Hey everyone! So I'm writing from Hong Kong International Airport! I have a layover here and the next stop is Bangkok. If you've been following along with me for awhile you'll know I went to Thailand about 3 years ago and I'm super excited to be back! By the time you read this I'll probably already be in Thailand but who's ready for story time?
I try super hard to not shed light on negative things because what's the point? It doesn't change the fact that it happened BUT I can giggle at some of the things after the fact.
Okay sooooo it's that time of the month and I was REALLY hoping it wouldn't come the day I had to travel. Of course it did anyways because mother nature has JOKES for days. My flight from Los Angeles to Hong Kong was 15 hours and the last thing I wanted was to worry about cramps and running to the bathroom every few hours. Thankfully I was smart enough to bring my heating pad and I wasn't around any screaming babies so I was able to sleep 90% of the way. I was really disappointed in the movie selections on the flight but it was even more reason to get my snooze on lol.
Also, I almost killed my laptop 5 times! I don't know what's wrong with me because my laptop is my baby and I usually take really good care of it but today was just one of those days where I was clumsy AF. I had my laptop in my laptop case thankfully and tried to put my carry-on in the overhead compartment. while holding my laptop. Now that I think about this, it makes no sense but when you're running on a few hours of sleep you do things that don't make sense. I lost my grip on my laptop and it didn't just fall it was the biggest thud I've ever heard and I was like yea, no way that thing is ever going to work again. But it did!! The next time I dropped it I was in the airport and my laptop was resting on my carry-on, I leaned on it and the laptop once again fell smack down on the floor and I knew a screen or something was shattered. Checked it out again and it was all good. Four more times I made clumsy mistakes and my laptop continued to get abused but thankfully I'm able to write this blogpost to tell the tale haha!!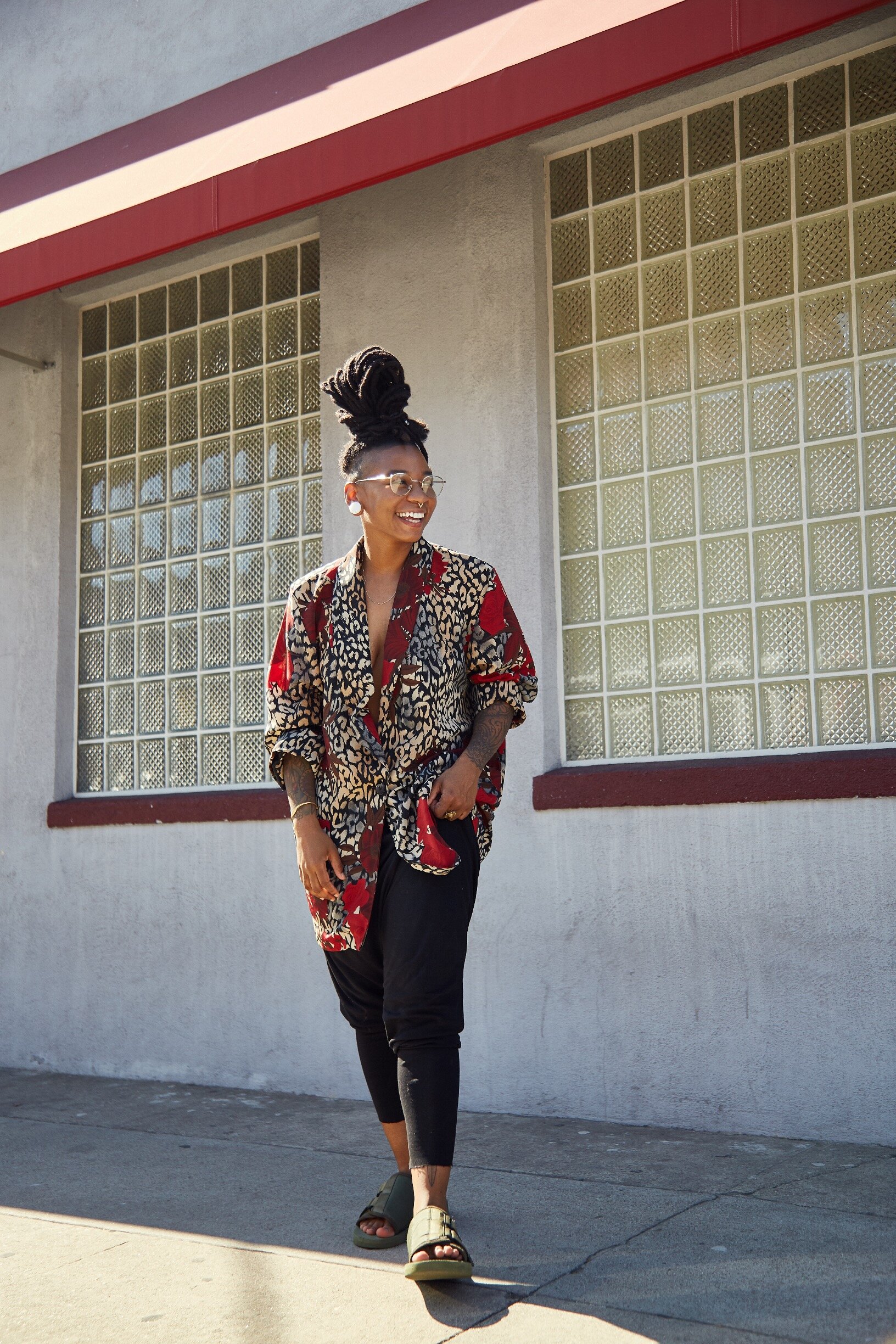 Now let's get into this fit! I really want to talk about this shirt/jacket/blouse situation that I found at my first ever rummage sale in Washington. I almost didn't get it because it had shoulder pads and the design was questionable but I also couldn't put it down. I was like this is sorta kinda a vibe but I'm going to need to cut the shoulder pads out lol. I'm all for waiting for pieces to grow on me plus it was a rummage sale so it was also inexpensive. It cost around 80 cents so it wasn't like I was breaking the bank or anything. I also went for the no bra look once again because it was a hot day when we were shooting and it felt really good to be free once again.
Since the piece is pretty bold I knew I wanted to be dressed down for the rest of my fit. I wore my drop crotch pants that I made and my green Suicoke slides. Such a chill look but still making a statement at the same time.
Have you ever been to a rummage sale? I want to go to more so let me know!!